RETAIL AND LEISURE INTERNATIONAL MAGAZINE – SEPT 2019 – TECHNOLOGY PROFILE
Experience, Knowledge, Flexibility and 360° Reliability
Since 2004, Esprit Digital has been entirely focused on deploying the most durable systems all over the world, offering an unrivalled one-stop service to transform the most challenging mass transit and high footfall retail sites into stunning digital screen environments. Here, RLI sits down with CEO Peter Livesey to learn more.
The team at Esprit Digital design and build any kind of bespoke digital hardware for any environment anywhere in the world and then support it for life. The company work with all types of visual display technologies, primarily LED and LCD for major infrastructure owners including malls, metros, airports and retailers.
They have evolved in the market of digital displays from making LEDs for roadside billboards in the early nineties for the forerunners of the current major advertising contractors like Clear Channel and JCDecaux, to working on the London Underground in the early 2000s which became their signature project after they invented the screens to go on the escalator walls, to making Digital Totems and Kiosks for Westfield globally.
"I would say the London Underground project was probably the hardest we will ever have – after overcoming a multitude of technical and certification challenges we put nearly 2,000 screens on the walls back in 2005 and most are still there now, working 18 hours a day, seven days a week, 14 years later, so we did something right!" explains Peter Livesey, CEO of Esprit Digital.
The last 12 months have seen Esprit Digital install the first ever ad screen network in a mall in the Kingdom of Saudi Arabia, to working on more centres in the US, all the way back to the City of Birmingham, where they are currently delivering hundreds of giant single and double-sided 75" Roadside Totems for Ocean Outdoor.
"Looking forward we want to work on more of the same, but we have also launched a new division called Esprit Digital Interactive (EDi) which is exciting and right at the cutting edge," explains Livesey. "We have bought a software house in Barcelona and are specialising in the next generationn wayfinding which uses voice activation. So instead of having traditional maps, people can go up to a screen and talk to it and ask it where to go."
The company also has a suite of gesture-based controls, which means people do not have to touch the screens, they can instead simply point to it and move in and out with their finger and move things around, a very useful tool in hot climates when glass becomes very hot to the touch. Esprit Digital set themselves apart in the market by continuing to do everything in-house, they are all about reliability and seamless integration. They provide a 360° service which begins with a blank piece of paper and expands into prototyping, manufacture, installation and global support. They bring experience, knowledge and flexibility to any given project.
"Our key department is research and development where we are constantly evaluating new technologies to incorporate into our solutions and our digital furniture and the people in this department are completely passionate and have been with us forever," says Livesey.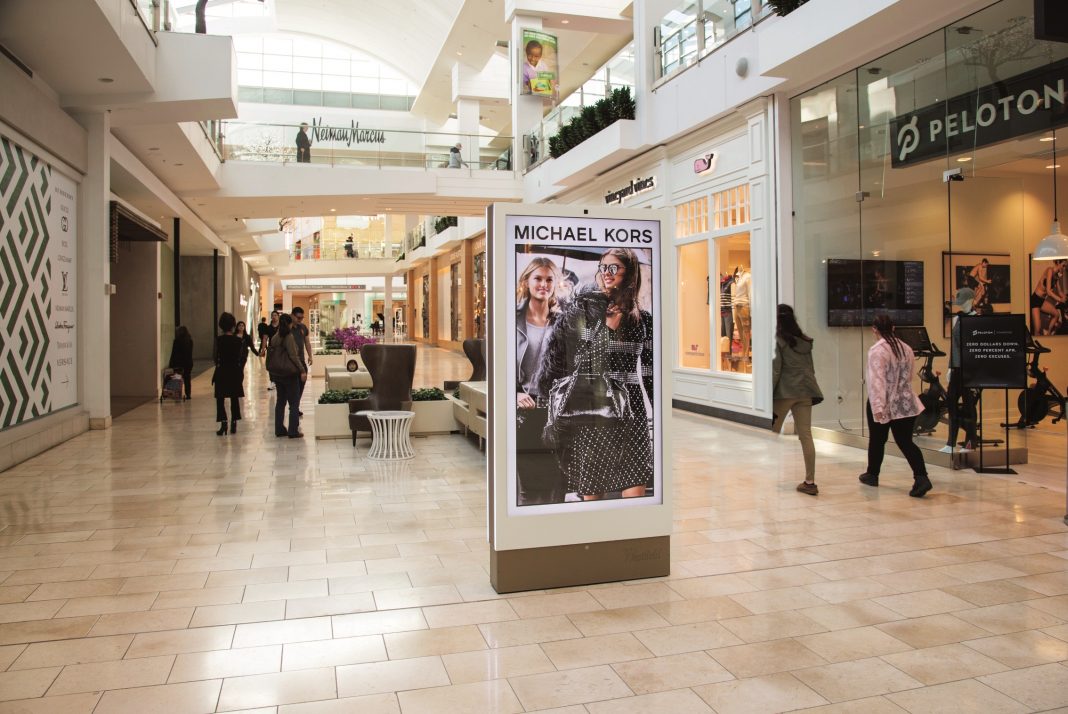 What this company can offer is a full-service operation that can begin before a project has even commenced groundworks. They can visit a site and look at it from the outside and understand where screens need to be placed, in the car park, in the buildings themselves and where best to place them to reflect passenger flows.
"We believe that no project is too large or too small for us, from huge screen deployments for Westfield and Heathrow, to individual specials for Harvey Nichols and Burberry. We work excellently with others as a team and have long standing partnerships with the biggest players in digital," explains Livesey "making sure that we are always available, that there is no time difference and that there is always someone around whatever time, day or night."
Speaking about the industry, Livesey explains that digital out of home, which is basically anything that isn't TV, radio or press, has been a real growth area for the last fifteen years and shows no sign of slowing down.
"The other thing is that the hardware has come down significantly in price and this has driven the large-scale proliferation of screens that we have seen over the last few years," says Livesey.
Finally, what keeps Livesey excited looking forward as the company moves through its third decade of existence? "We would like to keep winning industry awards like the 'Retail Project of the Year 2018' at the AV Awards for the Westfield US Mall rollout and the 'Queens Award for Enterprise: International Trade'. Nobody has completed the variety of different projects that we have, so that keeps it fresh for me – every time a brief lands on my desk it presents new challenges, from subways to the tops of buildings and from external screens in hurricane regions to deserts."